Purrrfect distraction: Brooklyn's first cat cafe just started a 24/7 kitten cam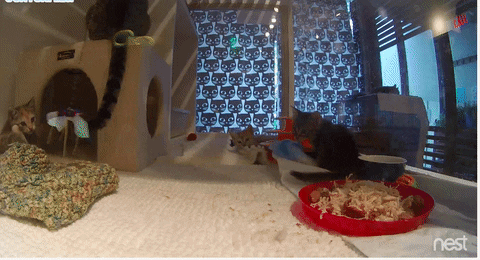 Last month, Brooklyn's first permanent cat cafe opened in Brooklyn Heights where you can go snuggle with cats for $5 per half hour/pay $5 to have a historically violent 30-minute allergy attack. Now the Brooklyn Cat Cafe has upped the cute factor by installing a 24/7 kitten cam, which, according to DNAinfo, is focused on five-week-old kittens named Jem, Rumple and Jelly romping around their "kitten terrarium"with mother Grizbella until they're eight weeks old. Gaze in catatonic wonder at the kitten cam and it's soothing playfulness, no Claritin required. 
The Brooklyn Cat Cafe is located at 149 Atlantic Ave.,  between Clinton and Henry streets. Note: It's not so much a "cafe" as it is a "place for your to be among cats:" they don't serve food, but you can get snacks and coffee/tea from the bagel shop next door. The cafe also offers "cats and mats" yoga, and movie nights among the felines (see the events calendar here).
Related Articles
As we all know, Manhattan has not just one, but two cat cafes. The nerve of that expensive borough hogging all the cat cafes in...
Whether those complaints about this being the worst allergy season ever are based on actual science or just more media hyperbole, it's certainly not...