Stephen Colbert is a historical figure of the 21st century. Not only did he manage searingly subtle satire on The Colbert Report that carried into the creative license he now boasts on The Late Show, but he's always kept his political pilot light burning, and evinces a woke-ness that rivals most news outlets.
Now, you can share Colbert's legacy: CBS is hiring for not one but TWO full-time producer positions on The Late Show, a Digital Producer and a Social Media Producer. FWIW, they were hiring for the social media position earlier this year, which can only mean one of two things: it didn't work out, or they're expanding the team. Either way, that's more job for you, and a yuge chance to work alongside one of the comedy greats in taking Trump's America to task every damn day. Read on to find out how to apply!
Both positions are full-time and based in NYC. The Digital Producer gig reads as follows:
As the Digital Producer for the Late Show with Stephen Colbert, you will generate ideas and imagine new ways to reach a wider audience. You will be a creative, out of the box thinker, with strong editorial judgment, and an eye for what's trending and has the potential to go viral. The ideal candidate will have comedy writing and design experience.
You'll need 3+ years' experience shooting and editing, with a "proven track record of creating funny, engaging digital videos" for media companies, as well as a high proficiency in Adobe Creative Suite. Some type of comedy or entertainment experience is required. Professionalism-wise, you've got to be able to work under tight deadlines, adapt ideas into production plans (and stay on budget!) and know the what's what of emerging trends in digital video.
Apply here.
________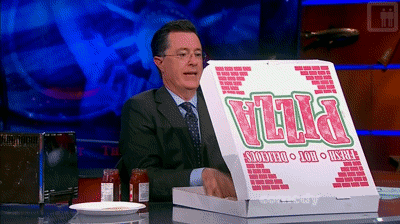 More of a social media maven? Here's what the Social Media Producer gig entails:
As the Social Media Producer for The Late Show with Stephen Colbert you will work with Digital and CBS Interactive to build and maintain social engagement on various platforms including Facebook Live, Twitter, Snapchat and Instagram. You will lead content creation and account maintenance, and will be the de facto Late Show fan club president, interacting with fans and nurturing online engagement. Leading candidates will be self-contained social media machines with a background or demonstrated interest in comedy.
Similar rules apply: 3+ years in the biz managing social media strategy for a media company, comedy or entertainment experience, the ability to generate new and creative ideas for each platform (Facebook Live, Twitter, Snapchat, Instagram and more) and the ability to multitask like a boss, since you'll have multiple tabs open at all times. You also need experience with Photoshop and basic design knowledge, for all that Colbert content you'll be churning out.
Apply here.
Good luck, and don't forget to thank us when you guys win another Emmy.