Spring is in the air already which means its time to start thinking of all the wonderful things you're going to grow this season. And it's time to reevaluate your efforts at composting: maybe you still haven't jumped on the bin wagon yet, or maybe you've been fighting with your roommates over who has to take your compost bag down to the drop-off at the farmer's market each week. But did you know the city will help you set up your own home composting station? You can buy bins at a $20 to $40 discount, and, if you attend a composting workshop, you can get a discounted worm bin starter kit (complete with worms!) for cheaper too.
Recycled plastic bins are available to NYC residents at cost for $50 to $60; normal retail price $75 to $95. (The deal used to be even sweeter: before budget cuts, the bins were available for $20.) Metal garbage can composter is sold at cost for $22.
Worm bin starter kits, including one pound of red wiggler worms, are also available for $55. Residents who attend NYC Compost Project workshops on indoor composting in any borough can purchase a worm bin, including worms, at cost for $44.
Compost Cranks are periodically available to NYC residents for $42 at some Compost Project sites. Just crank the beveled spiral tip in and pull out to mix and aerate your compost. The Crank easily penetrates densely packed, chunky, fibrous compost.
Check this calendar for more details on the composting workshops offered throughout the city, including Brooklyn ones at the Botanic Garden.
The city's discount offerings:
GARDEN GOURMET COMPOST BIN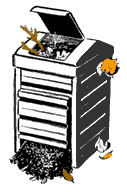 Height: 36″
Width: 24″
Depth: 24″
Weight: 29 lbs
Capacity: 11 cubic feet
at cost: $61 each (tax included)
---
EARTH MACHINE COMPOST BIN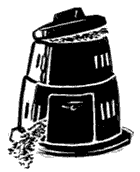 Diameter at Top: 23.5″
Diameter at Base: 33″
Height: 33″
Weight: 15 lbs
Capacity: 10.5 cubic feet
at cost: $60 each (tax included)
---
METAL GARBAGE CAN COMPOSTER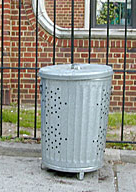 Height: 23″
Diameter at Base: 15.25″
Diameter of Lid: 17″
Weight: 7.3 lbs
Capacity: 3 cubic feet (approx)
at cost: $23 each (tax included)
---
WORM BINS 

Width: 19″
Height: 16″
Depth: 12″
Weight: 1 lb
Capacity: 3 lbs kitchen scraps/week; indoor use
$55 each (tax included), including 1 lb red wiggler worms
Contact:
NYC Compost Project in Manhattan ("Wormshop" participants receive a coupon to purchase a worm bin, including 1 lb of worms, at cost for $44 from the NYC Compost Project in Manhattan.)
---
COMPOST CRANK 

Length: 45″ long
Weight: 2 lbs
Shaft: 3/8″ diameter
stainless steel
Handles: 100% recycled
black nylon
at cost: $42 each (tax included), when available
If you'd still rather go the route of freezing your food waste and dropping it off for someone else to worry about, you can always use these free drop-offs around the city.