Horses are a rare sight in this concrete jungle where memes are made of. One of last summer's hottest news stories was that of the mysterious "Franklin Avenue Horseman," and when the TODAY show brought in that same Brooklyn horse to meet Terry Crews on live television, we went wild all over again. Suffice it to say, Brooklyn should be as proud of its equine citizens as it is of its human ones.
This weekend, the New York Transit Museum is celebrating their 40th anniversary with a free all-day, all-ages block party on Schermerhorn Street in Downtown Brooklyn. And guess who's going to be in attendance? Yep, that's right — besides the transportation games, live entertainment and vintage buses to board and explore, you too can now meet the blog-famous Brooklyn-trotting horse that once terrorized our streets and touched Terry Crews.
Heck, if you shake the horse's hoof, it's as though you met the man.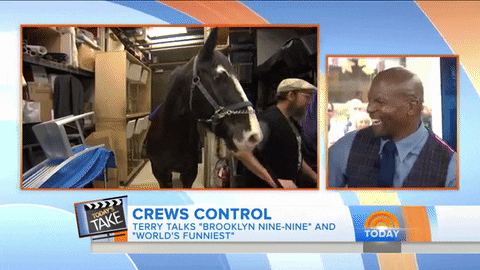 On Sunday, June 12, bring yourself and some friends to Boerum Place and Schermerhorn Street in Downtown Brooklyn anytime from noon to 5pm, where the Transit Museum will plenty to keep you occupied for a sunny afternoon. We should also mention that this is a great way to explore the brighter history of the MTA,  given the bleakness of their current state of present affairs.
But we just wouldn't feel right if we didn't emphasize the fact that this is also the block party where you can hang out with a famous horse, that has risen through the ranks of Kensington Stables to become both the borough's most sought-after freelance Uber ride and the newest BFF of diamond-cut Brooklyn Nine-Nine star Terry Crews.