Dance away this Cruel Summer at the skint's '80s throwback party (we've got a discount too!)
Hot summer streets And the pavements are burning.
Between the heat, the politics and the general crappiness of world news overall, summer has definitely been a cruel one. In times like these, it's easy to give in to the temptation to stay inside, hugging your air conditioner dearly. But what we all really need sometimes is the chance to dance out our feelings. Your best chance to do that this week comes on Friday when our pals at the skint are holding their fourth annual Cruel Summer dance party that will lift you out of the problematic future and take you back to the breezy days of the 1980s, a simpler time when the tunes were cool and Pokemon weren't around us at all times. It's got a killer 80s cover band busting out everything from A-ha to Prince, a great DJ and more — and we've got a special half-price discount code just for you.
The party goes down at the Bell House on Friday, starting at 8pm. Tickets are usually $10 but use the code TakeOnMe at checkout to get in for just $5! Get your tickets here now.
The party features two sets by The Engagements, not your average cover or wedding band, who rock out some seriously awesome throwback tunes, who've toured with Q-Tip, Mos Def, Sharon Jones and The Dap-Kings, Steely Dan, Whitney Houston, and more. In between you'll get sets from Party Like It's 1999's Steve Reynolds.
Wear your yacht rock best, down some drinks, dance away your woes and maybe the rest of the summer won't seem so cruel.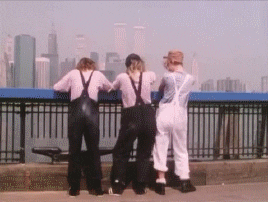 Related Articles
December babies tend to either get lumped in with the holidays or not have enough friends in town to merit a birthday party. Come celebrate their struggle.
Have a fun time with fungi, interact with a combination bodega and art gallery, get down with the tarot spreads, and more ways to make a memorable weekend.
Get a chill with Icelandic films, have an old-school skate-down, rock out for hurricane relief, and more ways to have a splendid week.
Get blinded by science, electrocuted by comedy, and dazzled by burlesque, and more ways to have an excellent week.