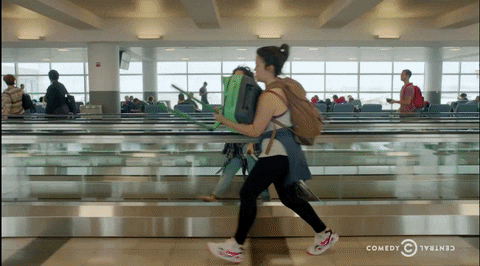 This week's penultimate season 3 episode was a Broad City first: a cliffhanger! On the heels of last week's emotional series of events, the bros are out of the picture and the broads are hustling to get the fuck out of town. Where, you ask, is a suitable vacay spot for two kweens such as these? Surely Tulum and Palm Springs aren't the only places white girls go anymore, right? (Right.) It's an episode about how the city can conspire against you, basically, but reinforces the Broad City family values: persistence, resourcefulness and creativity when hiding your weed in the face of the MTA and/or other evil forces.
The destination reveal is a slow burn, but the broads' bags are packed and we're ready to go. On the way to the airport, after managing to hop a turnstile and execute a well-coordinated subway car rendezvous (💯), the train stops suddenly underground because of course it does. While Abbi runs through all of the adult magazines — RealSimple, O Magazine, Dwell — she can't wait to buy at the airport, Ilana realizes she forgot her passport, and it quickly turns into a strategy sesh. First, a light game of fuck/marry/kill/eat to figure out priorities in case the train never moves again, and from there, a simple plan: get out at the next stop, Uber to Ilana's and then book it to JFK. Or, like, just learn to live with the mole people — whatever. We've all considered it.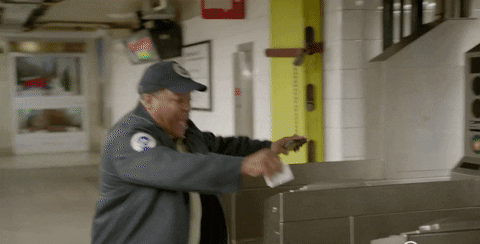 Instead of calling an Uber — thank gawd; I don't think I can even laugh at Uber parodies anymore — the girls opt to knock on the door of an off-duty cab driver in Queens, eventually bargaining their way into the car with a 15-year old who's had more sex than some 30-somethings I know. They eventually arrive at the airport, Ilana coins a new, horrific way to conceal whatever you might be hiding in nature's pocket, and they baaaarely squish themselves onto the plane.
Israel, huh? Here's a thing my friend, who is Jewish, said out loud when group host Seth Green made it clear that Birthright is really the OG JDate: "Oh, so that's why they match you up by age group and interest. I just figured that out."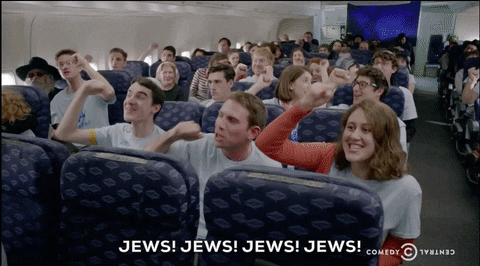 In summation, the NYC metro-area transportation struggle is real, as is the intense feeling of overwhelming panic that results from realizing you've forgotten something like a passport, a wallet or a phone — whether you're trying to catch a flight or just trying to get home from the bar. But like, what's going to go down with the gals in Israel? Will they actually land? Will there be camels? Is this going to be anything like the Sex and the City sequel? I get definitely get Samantha Jones vibes from Ilana; you feel me? TO BE CONTINUED.
We picked out the references you may have missed, the moments we're still talking about and the gifs you need in your life right now:
Moment that made us scream YAS, QUEEN: Someone should Shark Tank period pants, for real.
Best callback: Aw, Ilana is still sharing her home with the mama and baby rats we met in episode 4. "Leave the radio on for Rat Bastard and her family when you leave. We can afford it," she yells to Jaime on the way out the door. That's sweet.
Best pop culture reference: On Uber: "I hate it. But I love it. But I hate it." DON'T WE ALL. They really nail the horror — and shame — of surge pricing, too.
#teens: "Look at all my fuck bracelets!" Kids are terrifying.
Subway schadenfreude: I am worshipping Ilana for hopping the turnstile and out-running an MTA employee. I've only tried that once, and I got a $100 ticket. Cooooooooool. It's impossible to get on the train, you guys, whether you're an MTA worker or a goddamn presidential candidate.
Actual real New York thing that got super, super real: Have you guys ever done Yoga to the People? I feel like it's definitely something that sounds better than it is. Plz leave ur cheap yoga secrets in the comments, tho!
Best cameo: Whoa there, Seth Green. I completely forgot you were a person! And such a tiny person, too! Did you guys know he's 42 years old? Holy shit. See you next week, Seth!
Stay high: Period pants are actually brilliant, but if you've got travel plans and need help packing, you should just peep this handy Jezebel post. You're welcome, ladies.
Gif of the week: The power of the butt.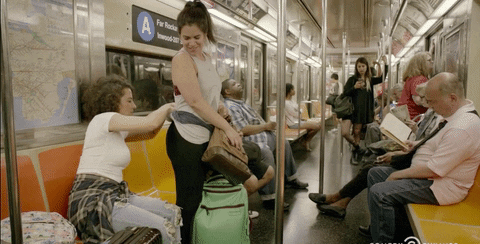 Catch up on this season's previous eps before next week's finale!
For a good time, follow: @meghannn