Open hate is on the rise. Last week, a Muslim woman was attacked on the 6 train (Update: The NYPD now says this story was false). Yesterday, a Muslim transit worker was pushed down the subway steps. These incidents stand out not merely as a reminder that everything is terrible (which it is), but as a study in contrasts: In the former, no one intervened. In the latter, a good samaritan reportedly stepped in.
The difference between standing by and standing up may be just a few seconds' difference in the event, perhaps an extra slur avoided, but remember that it affects victims disproportionately to how it affects you where trauma is concerned. Plus, the effect of bystanders who do nothing is well-documented in history.
But with a 35 percent spike in hate crimes in NYC, standing up for a stranger feels like a zero sum game. How can you de-escalate a situation where someone is getting violent? How do you know whether they're armed and looking for a fight? In other words, how can you save someone from getting hurt without getting hurt yourself?
Luckily, there are courses for that being offered both in-person and online! It sucks that we need this kind of training, but them's the breaks. And if you count yourself among the fragile white majority, you definitely owe it to yourself to study up. Start by listening to WNYC's segment on what to do if you witness a bias attack, and then let the real training begin, young grasshopper.
Attend an anti-hate-crime forum
City Councilman Steve Levin is holding two forums to discuss how to put an end to hate crimes in Brooklyn:
1) Dec. 15, 6:30pm-8:30pm at the Automotive High School at 50 Bedford Ave., Greenpoint.
2) Dec. 19, 6:30pm-8:30pm at St. Francis College at 182 Remsen St., Downtown Brooklyn.
Take a class in person
If you haven't flown out for Christmas, Silent Barn is also offering a bystander intervention and de-escalation workshop on Dec. 23 at 7pm to pass along "a series of tools that can be consciously employed to defuse volatile situations." From the Facebook event:
In this interactive workshop, bystander intervention and de-escalation will be presented in the context of self-defense and harm reduction. Students will identify verbal and non-verbal techniques and tactics to de-escalate conflict. Students will also learn the four Ds of bystander intervention – direct, distract, delay, and delegate. All of these tactics will be presented in tandem with the importance of larger scale community organizing and alternatives to policing.
For any stubborn Manhattanites, it looks like there's a version of this in the Lower East Side at Bluestockings Bookstore (172 Allen St.)  happening both Wednesday, Dec. 7 and Wednesday, Dec. 14. Make sure to RSVP  for 12/7 or for 12/14 if you plan on going, as they're capping signups at 50 people.
All workshops are being offered by donation! There's no professional accreditation, but you'll still walk out with a toolbelt of codified techniques for getting in the way of attacks without getting in harm's way.
________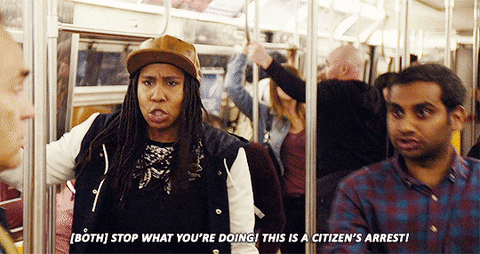 Take a class online
The Hollaback! Bystander Intervention Webinar is here to equip you "with the right information on how to be an effective bystander in the midst of violence enacted within our communities." It's being offered on a sliding scale from $5-50, on various evenings and afternoons from tonight, Dec. 6, through Dec. 20.
Hollaback! is a social justice organization to end online and street harassment that first gained a following after that NYC catcalling video went viral. The organization's Executive Director Emily May and Deputy Director Debjani Roy will host the webinar, to "arm you with the tools you need to respond to harassment and protect the rights of everyone."
We're not thrilled with the language of "arming yourself," in light of how violent things are getting already, but fighting Trump's America is certainly beginning to feel like fighting a war.
Here's when you can take the webinar:
Tuesday, Dec. 6 at 8pm
Friday, Dec. 9 at 1pm
Tuesday, Dec. 13 at 8pm
Friday, Dec. 16 at 1pm
Tuesday, Dec. 20 at 1pm
Lucky for you, spots aren't nearly as limited as they might be in a physical space, but you should still sign up ASAP to guarantee your spot. All proceeds will be donated to Hollaback to continue its mission.
Become a bystander intervention guru
Bring bystander intervention into your own community by becoming a Hollaback! site leader. Through a nine-month program, you'll get to work with Hollaback! to raise awareness in your community about harassment worldwide. You'll talk to the media as a Hollaback! rep, hold events and rallies…. it's no professional paid gig in feminism, but it'll rally the forces in your community so there's no risk of "the bystander effect" the next time shit goes down.