25 gifts under $25, No. 12: New DIY manicure swag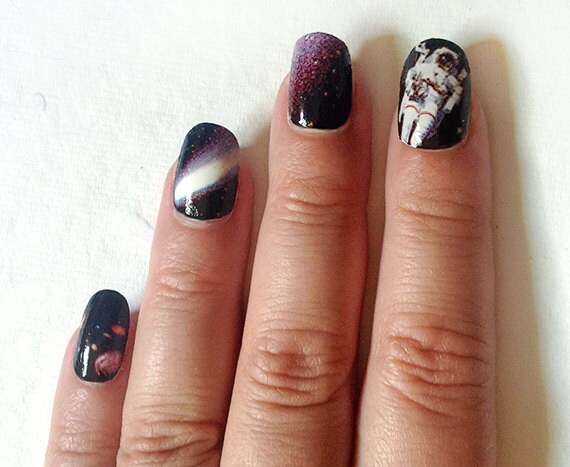 Who needs astronaut ice cream when there's this nail art?
Listen, I don't know about your manicure situation, but for me boring OPI colors don't cut it anymore. I'm always looking for the hottest new nail swag. I'm talking gel manicures, sparkles, cool ass shit. If you can relate to me on an emotional level and want to step up your nail game, then check out IHeartNailArt on Etsy. My homegirl, Julia, sells unique nail art– she has astronauts, yes, and also Rudolph, kitties, even Sweet Valley High. She creates the designs in Illustrator with a digital pen, then prints them out on a thin plastic decal paper and hand paints them with a clear polish. You cut the decal out, wet the backing and peel them off, and seal them on your nail with clear nail polish. Pretty easy once you get the hang of it. These sets include 30 nail decals, which are enough for two or three manicures. And they're mad cheap! $6 to $8.50 at IHeartNailArt
Related Articles
There are a lot of brilliant ideas out there with meh funding (the tunnel we wanted to dig from our houses to Disney World...
1. Franklin Park Reading Series takes a look at indie lit with five inventive writers. (Monday)2. Side Ponytail's comedy lineup is a bit off center. (Monday)3....
It's been pretty cool to see astronomical bad ass Neil deGrasse Tyson tooling around the universe every Sunday, bringing creationism-defying facts to the...
If you're like us, you've been thinking about your New Year's Eve outfit for the last few weeks, but haven't done any actual shopping...